Optimum Security Against Mobile Signal Threats.
JamS AG offers a professional, solution-oriented and complete one-stop service.
JamS AG was founded in Switzerland, and develops finished innovative jamming solutions in line with customer's requirements. We provide of more than 20 years experience in the area of jamming, security and integral building technology. We have developed jamming solutions in our own in-house research & development department for the following sectors:
Reactive jamming inside and around prisons
Convoy jamming for VIP transports
Drone jamming for sensitive buildings or infrastructures such as prisons, stadiums, open air concerts, government institutions, etc.
Tactical infrastructure jamming for anti-terrorism & SWAT Units, presidential guards, etc.
Our Technology is fully developed, manufactured and 'Made in Switzerland'. Our name stands for the highest global standards in the sector.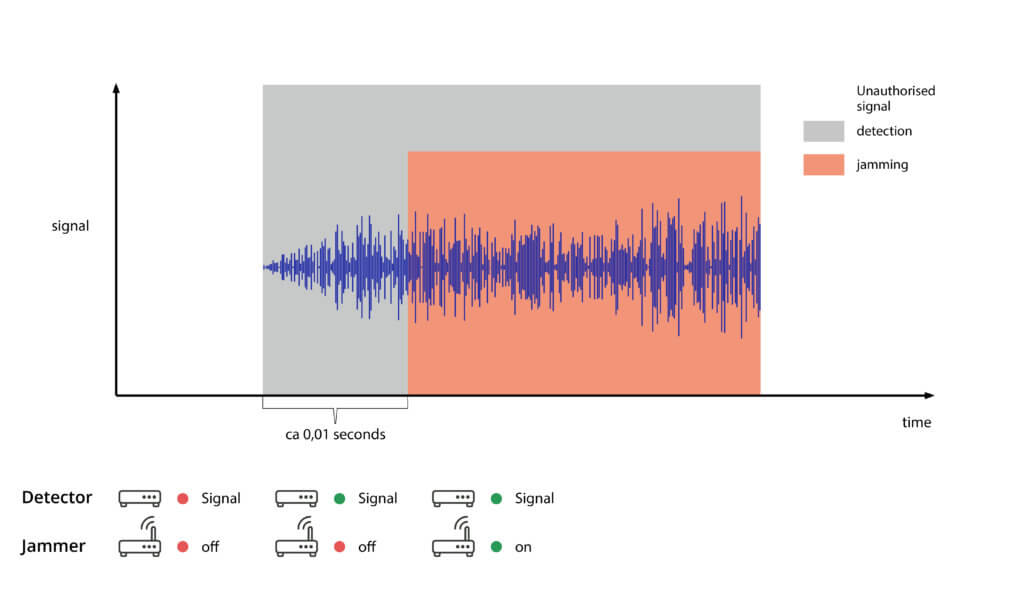 There is a fundamental difference between permanent and reactive jammers. Permanent jammers are always in transmission mode and interrupt any communication in one or several frequency ranges. Reactive jammers consist of a detector and a transmitter. Under normal circumstances the transmitter is deactivated, and the detector checks one or several frequencies. As soon as a communication is noticed in the defined frequency range, the control system actuates an alarm and activates the jammer that prevents the communication using a jamming signal. The advantages of a reactive jamming are a significant reduction of electricity consumption and lower radiation exposure.
The following signals can be jammed:
Amateur radio
Broadcasting News
Predecessor GSM
GSM (3G)
UMTS (4G)
LTE (5G) Mobiltelefon
GPS (US)
Galileo (Europe)
GLONASS (Russia)
Beidou (China)
QZSS-SAIF (Japan)
IRNSS / GAGAN (India)
Satellite Com
WLAN
Bluetooth
Radio remote controls, Hand-held transmitter